When things are on the up-and-up, the possibility that they might come back down doesn't even occur to us.
And when things are down, it can be hard to imagine them back up again.
"Recency bias" is a real son of a beach.
A dangerous son of a beach.
It makes us think that, because certain events happened recently, they are likely to continue happening.
Which is stupid of course, and highly illogical.
And yet, we succumb to it. A lot.
I did recently.
It cost me four hundred and sixty five thousand dollars.
But who's counting?
---
Know when to fold 'em
For whatever reason, it's just a whole lot easier to spot euphoria (and despair for that matter) from a distance.
When we're in the thick of it, it's easy for our monkey brains to get caught up.
We stop thinking clearly.
We believe "we know best".
After-all, what we're doing is working, isn't it?
On August 2nd, 2022 Jacky DM'd me on Twitter.
He asked if I planned on taking profits.
My blog had just made over $30,000 the month prior.
"You should really sell it…having $1MM tied up in a high risk asset is scary as hell".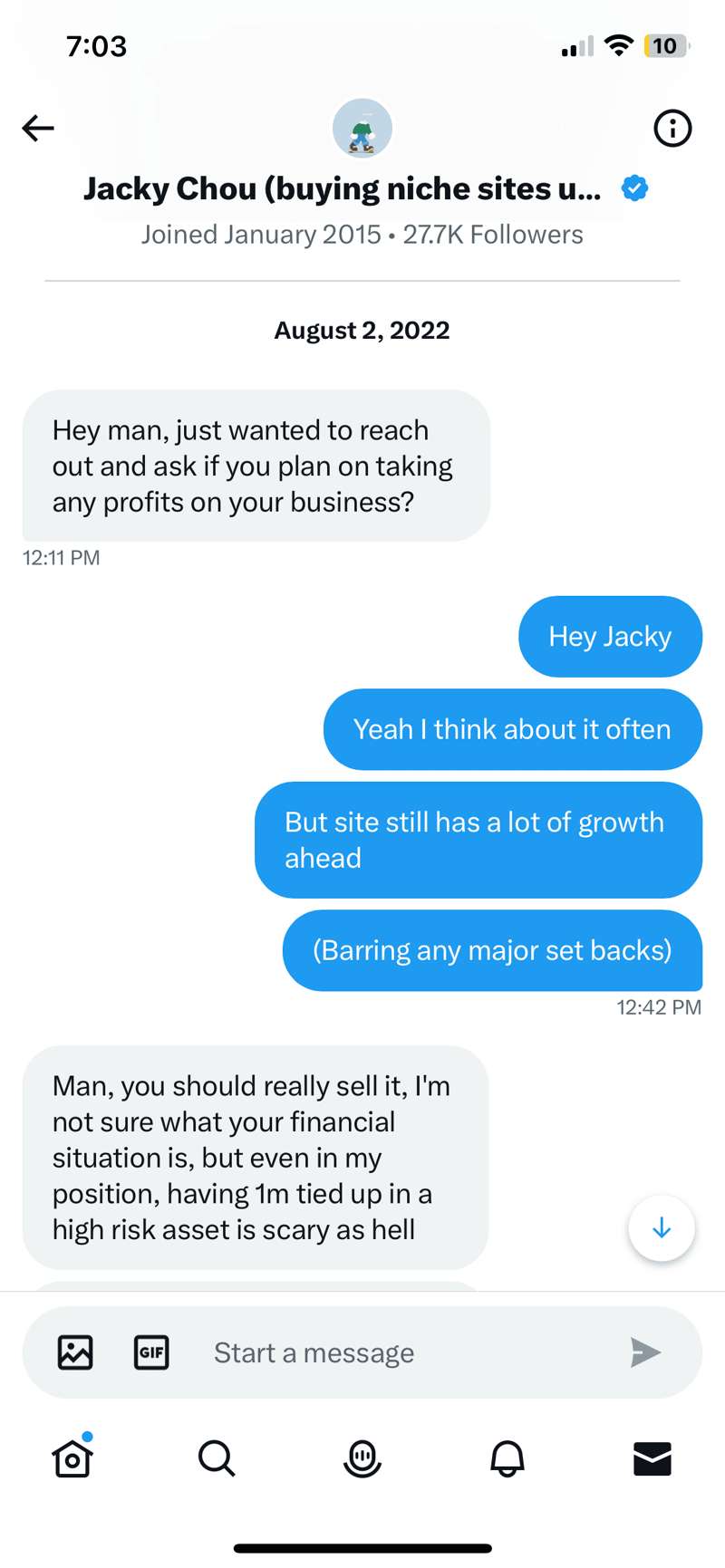 After reading his DM, I immediately snapped out of my euphoric state.
All at once I acknowledged that there was risk.
This wouldn't last forever…
Jk.
I responded,
"Site still has a lot of growth ahead".
Big brain stuff.
That month, August 2022, ended up being the literal top.
My site did 780,000 pageviews, and earned $42,775.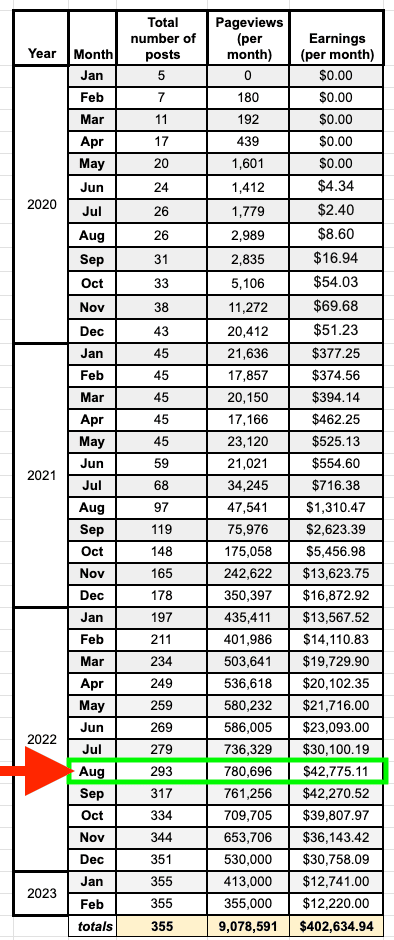 It then proceeded to stall over the coming months.
And then nose dive.
If I had listened, and decided to list my site for sale in August, I could have sold it for $1,265,000.
Instead I waited, and ended up selling it on the way down for $465,000 less.
Don't be me.
You want to sell your site when things are good.
When all your metrics are up-and-to-the-right 📈.
This can feel a bit counter-intuitive – selling when things a going well.
But that's why having a plan is so important.
Pick a target.
What's your goal?
What sale price would you happily walk away at?
What's "your number"?
Maybe your goal is to work on the site forever.
That's cool too.
But whatever your goal is, write it down. And then execute.
Otherwise you'll get caught up in the moment, and misstep.
Trust me.
"Barring any major set backs"
Proceeds to get hit with a manual penalty from Google three months later and lose 50% of traffic.
Pain.
---
Where to sell your website
In addition to when to sell, your plan should include how and where.
It's not overly complicated, so I won't belabor it.
There are plenty of great resources on the topic. The Website Flip, for example.
But high-level, you really have just 3 options when it comes to selling your site:
1) "Off Market" – aka a private buyer
If you know what you're doing, selling to a private buyer can save you a good deal of money on fees/commissions.
2) Public listing on a website marketplace
Think of these like eBay for websites. They charge a fee to list your site and take a % if it sells. A popular example is Flippa. With Marketplaces, you're mostly on your own. Sites are typically not vetted. It's a bit like the Wild West.
3) Public and private brokerages
Finally, there are public and private brokerages. Public brokerages share your website's URL. Private brokerages don't, unless the buyer shares proof-of-funds. Brokerages are far more hands-on. Sites are vetted before being listed. Sellers typically get a dedicated advisor. Advisors handle the listing, follow-up, and even negotiate on your behalf. Popular examples include QuietLight, Empire Flippers, Motion Invest and Investors Club.
Ultimately, you'll have to decide which option works for you.
If you have a lot of experience and a network, maybe selling off-market is best.
You'll certainly save money that way.
But if you're like me, and new to all this, using a brokerage and getting an experienced advisor is probably the way to go.
I had no idea what I was doing.
Or what to expect.
And I had a lot to potentially lose.
So I reached out to QuietLight for help.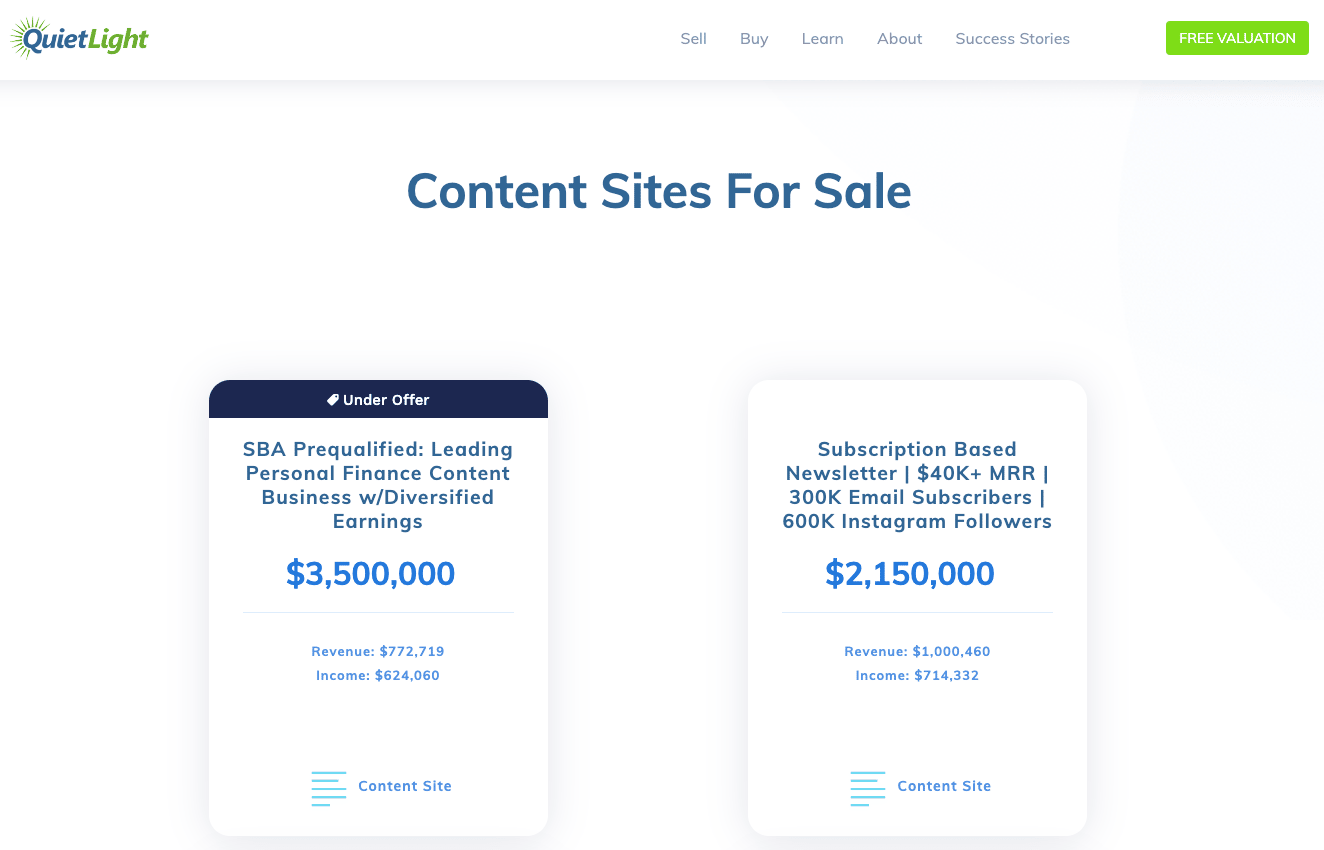 Having an advisor who sold content sites of their own, and had 15 years of experience selling online businesses, was huge.
It gave me peace of mind.
But that peace of mind came at a cost.
$90,000 to be exact.
Here's QuietLight's commission structure: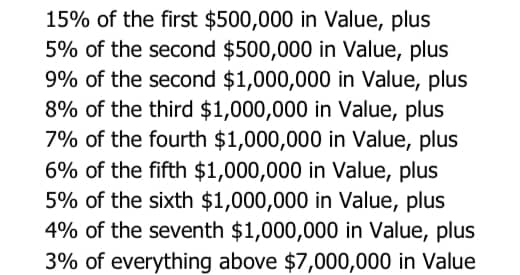 Not cheap, but a whole lot cheaper than getting ripped off.
You get what you pay for.
---
Coming Up…
The original draft of this newsletter was 3000+ words long.
So I broke it up into a 3-part "Selling Your Website" series:
Part 1 (this week): the when, how and where of selling
Part 2 (next week): buyer financing (real SBA example), key documents, real world timeline for SBA vs cash deal
Part 3 (finale): Uncle Scam (taxes), hand off/ transfer of assets, escrow process
Now go have a great weekend.
We'll talk soon.
-Mike
---
Twitter Q&A
Q: Have you had any sellers remorse? (Shawn Hill –@shwnhll)
​A: None whatsoever. To have been able to lock in a good amount of profit when I did has been game changing for me and the family. We were able to buy our dream home (we officially close in 7 days!) and I'm able to enjoy the time with our new baby, Maeve who was born March 31st – without the stress of trying to keep my site alive! No more waking up early every morning checking Google Analytics. My only regret is not selling a bit earlier.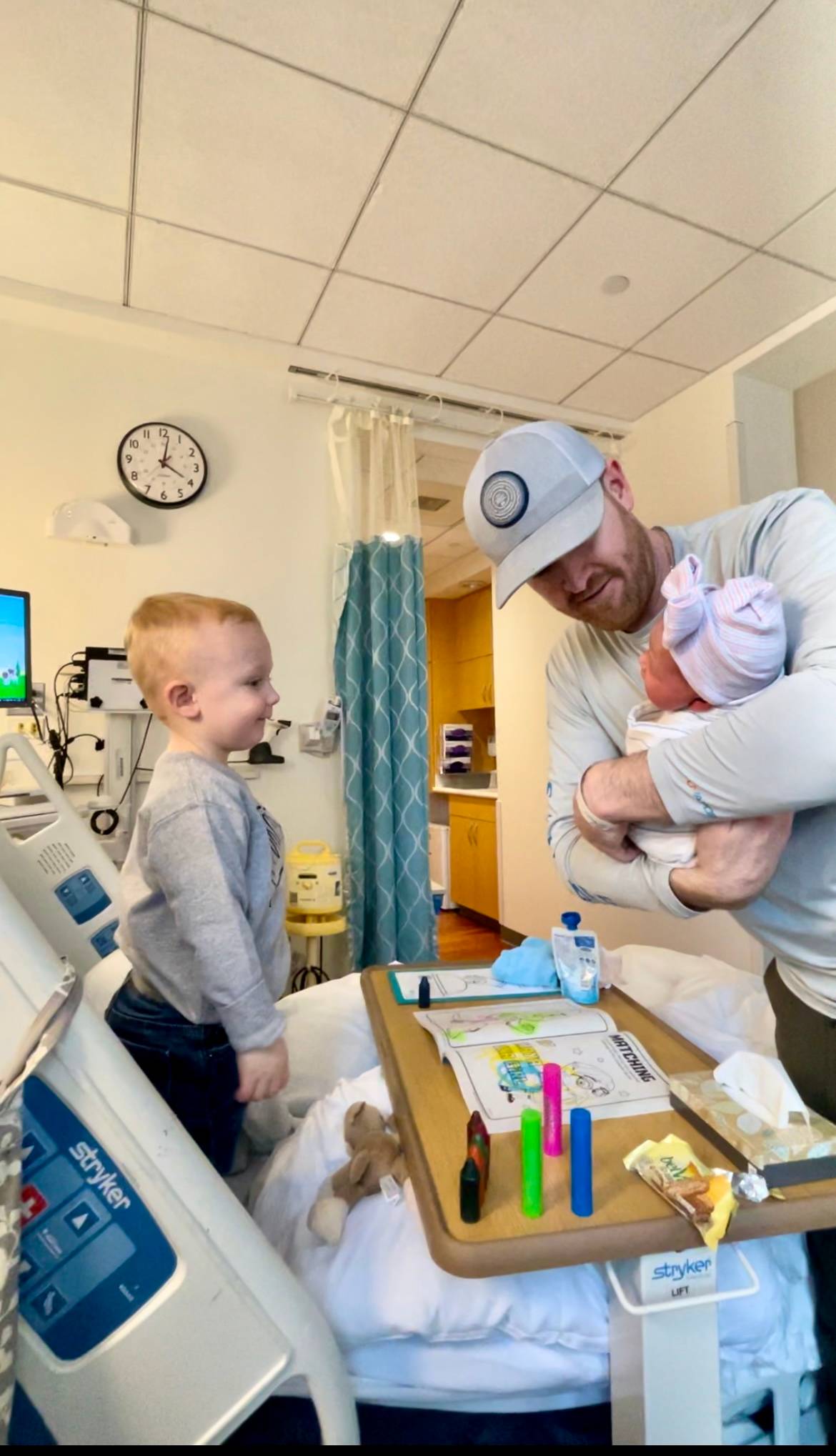 Q: Do you check its Ahrefs regularly (for the website you sold)? (@DntWrkAnthrDay)
​A: I do check in on the site occasionally. I have been meeting with the new owner regularly (I owe him 40 hours of my time over the next 3 months as part of the handoff/transition). During our last touch-base he said traffic has continued to increase since the sale and that he saw a good bump after the March Core update. I imagine I'll check in on the site from time-to-time, forever…

Q: If you know you're going to sell a site in 6-12 months, what should you be doing now to prepare? (Andrew Smith – @_andrewtsmith)
​A: I would engage with a brokerage now. Get an advisor assigned and start working with them. They can help you get everything in order. Biggest thing will be making sure your P&L is prepared and up-to-date. The brokerage can get things in order so that you're ready to list your site to sell within a few days. Then you just need to send them updated numbers each month until you actually decide to sell. Sale prep aside, don't take your foot off the gas. Keep publishing and working on your site as if you're going to own it for the next 10 years, even up until the final hour, just before you sell. Sales fall through all the time and the last thing you want is to be holding a site that you've been neglecting for a few months.
-Mike
---
Niche Twins newsletter sent weekly on Fridays at 8:30 AM ET